2021 IMCCA GA – Minute of meeting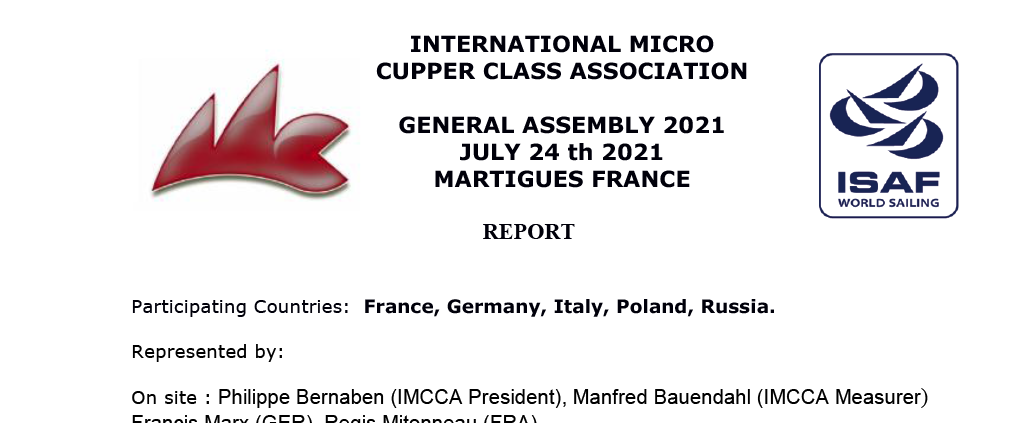 Participating Countries: France, Germany, Italy, Poland, Russia.
Represented by:
On site : Philippe Bernaben (IMCCA President), Manfred Bauendahl (IMCCA Measurer)
Francis Marx (GER), Regis Mitonneau (FRA)
Through Skype: Marco D'Alban (ITA),Piotr Tarnaki (POL), Dmitry Dyachenko (RUS),Mikail
Savin (RUS)
IMCCA President Philippe Benaben thanks all presents to have joined the call
and open the GA at 14.00 pm
President Report;
Covid 19 sanitary crisis continue to dramatically reduce our activity.
As today only Italian Euro Micro regatta has been done in June.
We had to downsize 2021 Micro World Championship to a European Regatta.
We hope that in September Micro regatta planned will happened.
Next Year 2022 Micro WC planned in Italy 23/30 July 2022 will be officially confirmed to
World Sailing.
2023 Micro WC to be in Russia /Pskov; Micro Class Russia to confirm that event (see presentation attached)
2024 Micro WC : Germany is working on a project of Micro WC near Nuremberg, has to be confirmed later.
IMCCA Board
President, secretary, treasurer positions are vacant.
No candidate declared before or during the meeting.
This is a real risk for the class. Today, relations with World Sailing are good, but this will not continue without a board. This issue was not solved during the meeting
Other matter raised by Italy
ITA raised the question to define a new division for old cruisers. This system has been
experimented with success in France (Origin division). ITA and FRA will work together to define a common approach. And this can be generalized after at IMCCA level.
This is an opportunity to have more boats in the regattas, propose a more affordable practice and it's also a good circular economy and environnemental reduction of our footprint.
Technical Committee update / Manfred Bauendahl (see report attached)
Financial update : Report done by JL Hayes
On the 31 st of December 2020 the IMCCA account was showing balance of 4005.90 €
The account balance on 30 th of June 2021 is 3735.00 €
Assets
In 2021 no Income has been generated by the annual fees from the IMCCA members.
No sale of ISAF plaque.
The position in detail
Annual fees 2021: 0 €
Available Stocks
6 ISAF Plaques at 75 € =450 €
Liabilites
Isaf annual fee 250.20 €
Bank charges 20.00 €
President, Chief Measurer and Treasurer reports are all approved by the assembly.
Any other subject to discuss, IMCCA GA is closed at 15.00 pm .
https://www.micro-class.org/wp-content/uploads/2021/08/IMCCA-GA-2021-Report.png
482
1024
Elise Keddam
https://www.micro-class.org/wp-content/uploads/2022/03/logo-micro-class-2.png
Elise Keddam
2021-08-04 11:16:44
2022-03-07 17:17:25
2021 IMCCA GA – Minute of meeting